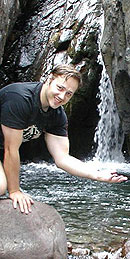 Daniil Placida
Speciality: Architect, Designer, Interior/Exterior Decorator, Landscape Designer/Decorator, Visualizer, 3D Modeller
Location: Tashkent, Uzbekistan
Primary Language: English, Russian
ICQ:
92340296
Website or Homepage:
Skype:
Phone:
Years in Business: over 15
Primary Software: 3DSoft
Relocation: No
Resume/Info:
02-15-2001 - I'm an architect from Tashkent city of scorching Uzbekistan Republic. It is happened that I am swinging in the architectural waves in this life. I am projecting small and big houses. Always I would like to create something that could be seen from cosmos. But while only fires and china walls are visual. I get ideas and images out of my spirit's cosmos and try to comply with customers' wishes. When it is possible, I am glad as a child, when it is not happened, I'm beefing as an older man. I create my life by РИТМ-X and recommend you to do the same!
Due to the absence of a native ability to keep hands in pockets, i.e. to do nothing, in a free time, I am organizing bodybuilding tournaments, training the youth, making champions in the native country. In the rest I am normal man, enough young, enough capable …and enough humble as you could understood … I think it is enough for virtual introduction, so let's meet soon, and I would like to wish you a good web-surfing … ========================================

15.02.2001 - Архитектор из города Ташкента, знойной республики Узбекистан... Так случилось, что в этой жизни раскачиваюсь на волнах архитектуры. Проектирую домики и дома. Всегда хочу сделать что-то такое, что было бы видно из космоса, но пока оттуда видны только пожары и китайские стены. Из космоса своей души, выуживаю идеи и образы, пытаясь срастить их с желаниями заказчиков. Когда это получается - радуюсь как ребенок, когда не совсем - ворчу как старый дед. Жизнь свою строю по РИТМ-X и вам тоже рекомендую Не имея врожденного таланта плевать в потолок, в свободное от работы время устраиваю в родной стране турниры по бодибилдингу, тренирую молодежь, и "натаскиваю" чемпионов... Можете считать это моим хобби, или пережитком молодости .....
Из последних своих увлечений могу назвать раскопки своей родословной , вы тоже можете проверить, а вдруг мы родственники? В остальном я - самый обычный, в меру молодой и в меру одаренный, ... и скромный, как вы поняли, тоже в меру..... Думаю, для заочного знакомства достаточно....так что до встречи, и удачного вам серфинга....